Shopping Guide for International Orders ONLY
How to order
*** Before ordering, please understand that this site is not customized for non-Japanese language. Some products and services for overseas are not available. If there are any questions, please feel free to ask by email.
1.

Choose products and put into a shopping cart by clicking

button.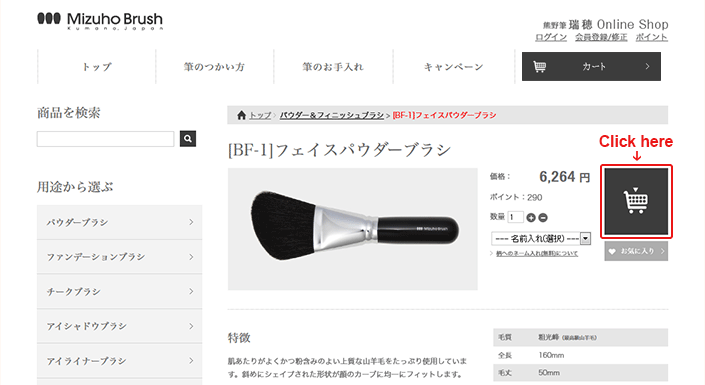 2.

In shopping Cart, click "Send Order" button.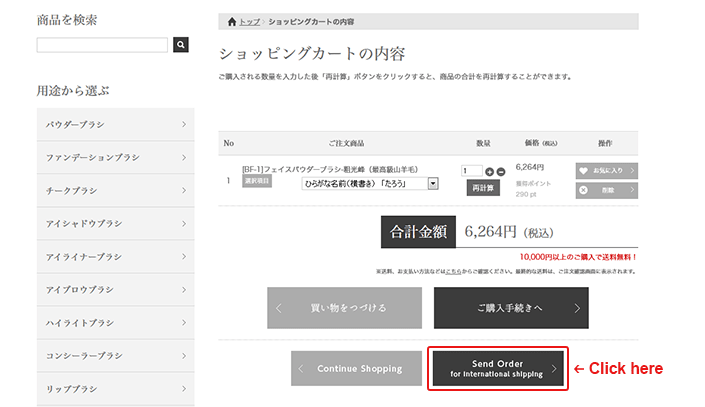 3.

Email application (Mailer software) activates. Please confirm your order (item(s) and quantity (ies)).

When you click "Send Order" button, Email application (Mailer software) activates.Please copy & paste from the below contents to the email.

THen fill in your name, country, shipping address and payment method.
(***Payment method can be selected from Paypal or Credit card)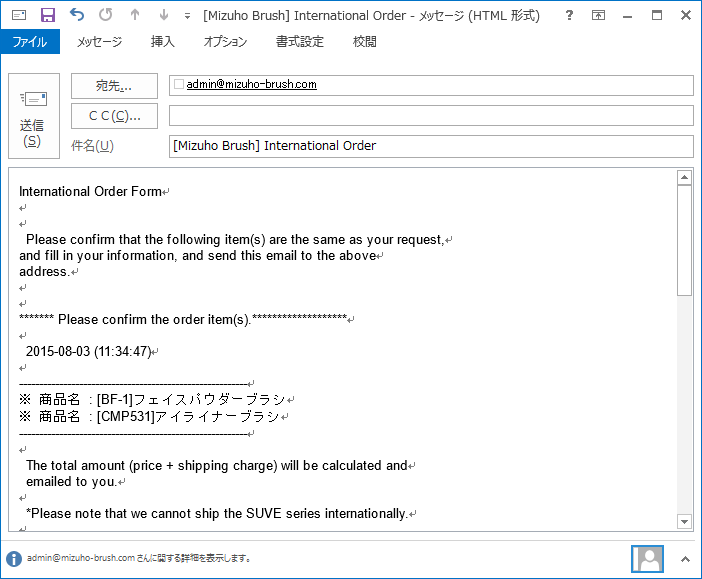 4.

Please email the completed order to "admin@mizuho-brush.com"
5.

The total amount (price + shipping charge) will be calculated and emailed to you.

If using PayPal, we will email the payment URL. Please complete the transaction online.

If paying by credit card, we will send a "Credit card authorization sheet". Please fill in the necessary information and send us a scanned copy or fax.
6.

The goods will be shipped on confirmation of your payment.

* Should the ordered goods be out of stock, we will inform you through email of the expected date of delivery of such goods as well as the tracking No. of the shipment.
Payment
We accept payment by Visa, Master, Diners, American Express, JCB, DC and PayPal.
Delivery
We ship through EMS (Express Mail Order) through Japan Post.
Shipping fees
Shipping fees are based on weight and size as designated by EMS. We will inform you by email of the shipping charge prior to finalizing your order.
Customs, Duties & Local Taxes
The recipient is the importer on record and must comply with all laws and regulations of the destination country.
Orders shipped may be subject to import taxes, customs duties and fees levied by the destination country.
The recipient of an international shipment may be subject to such import taxes, customs duties and fees, which are levied once a shipment reaches the recipient's country.
Additional charges for customs clearance must be borne by the recipient. We have no control over these charges and can't predict what they may be.
Customs policies vary widely from country to country. You should contact your local customs office for more information. When customs clearance procedures are required, it can cause delays of delivery.
Return and Exchange Policy
All sales are final.
We replace defective products only.
If you have a defective item which you wish to return or exchange, please contact us within 7 days from when you or the designated recipient received the shipment.
Customer is responsible for shipping charges on any returned items. We will make replacement depending on available stock.
Defective items must be returned within 20 days from the day you report the problem.
Products further damaged due to improper or inadequate packaging when returned will not be applied to the return policy.
The defective items must be returned to the designated address it was originally shipped from.
When you return the defective items, you must fill in the enclosed 'packing slip' and 'return form.
If a replacement is not available, a refund will be issued in the form of the original payment method (Credit Card or PayPal Account).
Privacy Policy
Our custmers privacy is of the utmost importance to us. At no time will Mizuho ever give any customer information to any third parties.
All information is kept in the strictest confidence between Mizuho and our valued customers.